<![if !vml]>

<![endif]>
This information updated Sunday August 18, 2019
Support Wilson High Alumni in Business
Notable Classmates 1962 Campanile For Sale

[ Reunion Blog ) [ Register with Committee ] [ Photos ] [ 2002 ] [2012]
[ List of Missing Classmates ] [ RIP ] [ List of those registered ] [ Luncheon ]
We held the best reunion ever on August 25, 2012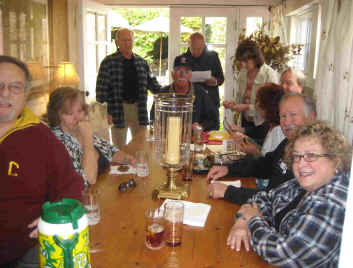 50th Reunion Committee assembled to mail invitations
Class of 1962 - The Greatest Class Ever
If you change your address or want to register
with the committee, please use this
registration form.
55 YEAR REUNION
There was not a 55th Reunion but 2022 is around the corner. Lets keep our fingers crossed there are enough volunteers to put on a 60th reunion.
FACEBOOK - Our class now has a private group within Facebook. It is designed where classmates can stay in contact with other classmates. Please take the time to register on Facebook and join our group. The Group name is "Long Beach Wilson Class of 1962" We just updated it to describe the reunion activities.
1962 Time Capsule After discussions with former class officers. We have concluded there is nothing important in the time capsule so we have cancelled all effort to dig it up.
55th Reunion 2017 Talking to Mark Masterson the other day and he suggested that there will probably not be any more reunions after the 50th and I assured him that there WILL be a 55th reunion. Because of the fall of Jim Munholland, there was little motivation to hold a 55th. Lets hope for a 60th. We sill have 500 classmates living in 2012 so there should be a few left in 2022.
50th Reunion 2012. The reunion is over and we have some very fond memories of the activities. By far this was the best reunion yet and it was caped off with a tour of Wilson High School which was very interesting with hidden passage ways and hidden spiral stair wells to secluded faculty lounges. The 1962 time capsule is still untouched and I am suggesting we open it to include info for the 50th reunion. Talking with class officers from 1962, they say there is nothing of interest in the time capsul and not worth the $500 cost of opening it. Consider it a dead issue.
Web Site Changes Thanks to contributions from classmates and reunion committees, the web site WilsonHighReunion.com can now afford its own HOST service and will not be sharing host services with Halling.com. You will not be able to recognize any difference, however some classmates may have saved the old host address in their browser favorites and they will need to update their browser favorites list. Keep those donations coming in.
Wilson Trivia
The Wilson class colors (Cardinal and Gold) and the Wilson Bruin Mascot were adopted from USC and UCLA. These were the two primary colleges at the time Wilson High was opened
A little bit of history - The Fairlanes Click on this link and bring back some memories
---
REMEMBER! It is your responsibility to keep your reunion committee informed if you move or change your e-mail address. You can use the registration form to keep the reunion committee informed of any address changes. Or send an e-mail.
Our e-mail address
[ Reunion Committee ] [ Register with Committee [ Photos ] [ 2002 ]
[ List of Missing Classmates ] [ RIP ] [ List of those Registered ] [ Luncheon ]
---
Web site created by Herb Halling

| | | |
| --- | --- | --- |
| | | |
| Herb 1961 | Herb 1992 | Herb 2002 |
| | | |
[ Reunion Committee ] [ Register with Committee ] [ List of Missing Classmates ]
[ RIP ] [ List of those Registered ] [ Photos ] [ 2002 ] [ Luncheon ]
---
This web site is owned by members of Class of 1962 Reunion Committee and supported by donations from Wilson High Classmates. This is an all volunteer effort and the little income donated by the reunion committees and classmates is used to keep this web site on the internet. If it is within your budget, please send us a donation.